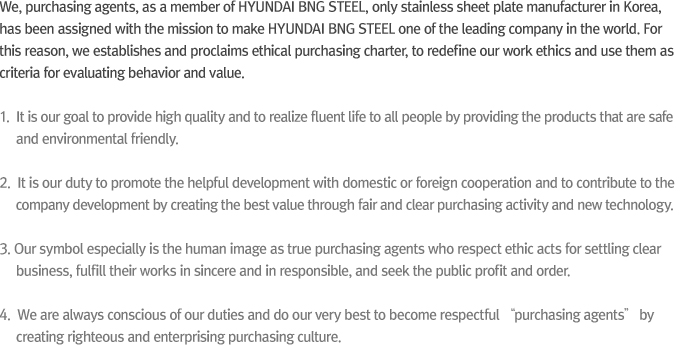 We, purchasing agents, as a member of HYUNDAI BNG STEEL, only stainless sheet plate manufacturer in Korea, has been assigned with the mission to make HYUNDAI BNG STEEL one of the leading company in the world. For this reason, we establishes and proclaims ethical purchasing charter, to redefine our work ethics and use them as criteria for evaluating behavior and value.
It is our goal to provide high quality and to realize fluent life to all people by providing the products that are safe and
environmental friendly.
It is our duty to promote the helpful development with domestic or foreign cooperation and to contribute to
the company development by creating the best value through fair and clear purchasing activity and new technology.
Our symbol especially is the human image as true purchasing agents who respect ethic acts for settling
clear business, fulfill their works in sincere and in responsible, and seek the public profit and order.
We are always conscious of our duties and do our very best to become respectful "purchasing agents"
by creating righteous and enterprising purchasing culture.

Purchasing agents who have the honesties and fairness
Purchasing agents who think and act on the side of customer
Purchasing agents who lead quality improvement and technological renovation
Purchasing agents who lead globalization with an international sight
Purchasing agents who strive to protect the nature
Purchasing agents who prepare the future and do not worry the failure
Purchasing agents who keep manner and elegance
Purchasing agents who can divide public and private
Purchasing agents who have priority for the company profit
Purchasing agents who have an initiative and a positive thought

- Taking money or goods

We do not take cash, check, and bonds in any cases.
We do not take gift certificate, membership ticket (golf, health, etc), and air tickets in any cases.
We do not take any oil tickets and transportation costs when visiting in cooperating company.
We do not receive any goods over 30,000 won at promotion, transfer, and holidays.
If any goods over 30,000 won was delivered to our home, it should be refused to receive. If it is valued less than
30,000 won, we must report to corresponded directors on documents.
We should not receive any supports or money (goods) from cooperating company related to the event like picnic,
climbing, and athletic meeting.

- Entertainment and cost passing

We do not take any entertainments or extraordinary discounts.
We should not purchase any goods from cooperating company at a special discounted price or free of charge.
The gambling (golf, poker, etc) with staffs of cooperating company should not be allowed.
Any costs for public or private should not be asked to cooperating company when traveling on business together.
Any costs for office banquets should not be asked to cooperating company.

- Solicitation

Any solicitations or pressures that may have a social blame are not allowed.
Private ask and request (product selling, insurance registration, and discount ticket selling) for cooperating
company are not allowed.

- Information use

The information collected from company works should not be used for private profits.
The information related to company must not be distorted or forged illegally, and untrue facts or rumors
should not be allowed.

- Job achievement

We equally treat all customers without differentiation and precisely and clearly fulfill works.
For the work with cooperating company, we should not do any acts that may affect to the decision.
Using superior and dominant position in works, improper requirements or compensations from corresponded
personnel should not be allowed.
Inadvertent direction that impedes the fairness of works should not be complied.
Staffs of purchasing office and cooperating company must keep the manner to achieve works.

- Other

No Any entertainments or giving and taking bribes that are not described in above should not be allowed.